Body Weight Workout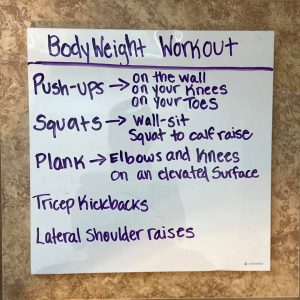 Hi everyone! I'm Alexis and one of the AquaGym Fitness instructors…if we haven't met yet it's wonderful to meet you!
And thank you ALL for taking this step in your health journey.
I am a NASM certified personal trainer and will be dropping some workouts here. We will start with just one or two a week. This week there will be no weights used and I will place links to the workouts as well as any progressions or regressions you can do with them.
PLEASE consult your doctor before performing any of these exercises and PLEASE tag me with any questions 
Aim for three sets of each exercise. You should also aim for 10-12 reps of each exercise per set. Adjust accordingly but remember this is just the first week.