Welcome to the future of aquatic fitness.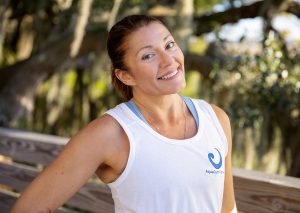 AquaGym Fitness™ was founded on Amelia Island FL. By Stephanie Newberry. The core of AquaGym Fitness workouts are high-intensity workouts which  set them apart from traditional aquatic fitness classes. For many years aquatic fitness has been associated with the elderly or the injured. New and continued research has proven that the aquatic environment is incredibly demanding when used appropriately. The buoyancy, drag, and resistances of the water creates an environment that can be utilized to create high intensity workouts without the fear of injury. Every class is designed so that each individual can receive the workout they need depending on their personal fitness level. These classes include traditional AquaGym, BootCamp, AMRAP (as many rounds as possible), FItKick and Circuit. As the popularity of AquaGym Fitness classes grew, additional classes were added to address the benefits of stretching and slow movements in the aquatic environment. Theses classes include Pilates and StretchFlex.
The goal of AquaGym Fitness is to introduce aquatic fitness to ALL demographics.
AquaGym Fitness classes are for ALL demographics and are meant to engage and challenge the participants. The structure of each class allows the participant to follow along easily while focusing on form, power, speed and effort. AquaGym instructors often mention that "You get out of it what you put into it". This phrase refers to the fact that water creates resistance…the harder you push against it the heavier and more muscle groups are engaged.
AquaGym Fitness classes have fun engaging instructors, and great music. In all our classes, the Instructors inspire the participants to work hard but also have fun! If your clients do not enjoy their fitness program they will not continue it. Our classes have a retention rate of 90% or better.
AquaGym Fitness wants you to work hard but also have fun!