2021 Wellness Program "The Beauty Chef"!
Tonight's Seminar will be postponed 1 week. Mark Your Calendar for Next Thursday at 5:45pm!
We need more time to create these amazing beverages!
LIVE Seminar TONIGHT
5:45pm
DRINKS
The joy of drinks is reflected in the lovely social rituals around them, a shared morning coffee, a pot of tea with a friend on a weekend afternoon, or a glass of wine in the evening.
Drinks are probably the easiest way to be creative in the kitchen, and it is fun to experiment with flavors and textures. They are also the simplest way to consume and digest nutrients quickly and in turn will give you an instant boost of energy and hydration, satisfy hunger, ease digestion and help the body wind down.
Our bodies are 60 percent water, and it's important that we keep ourselves adequately hydrated. Water carries oxygen and nutrients to every cell in the body and it is integral to our skin health and well-being. It gives cells energy and flushes toxins. Hunger and thirst signals can often be confusing, so if you are constantly hungry, it may be that you're actually dehydrated. You can liven up your glass of H2O by infusing it with a variety of herbs, lemon zest or rosewater.
Smoothies should almost be in a category of their own. Somewhere between a drink and a meal, they are a wonderful way to give your body a turbocharge of nutrients, and are perfect for busy lives. However, our digestive systems won't be cheated. Creating calm rituals around food is important for digestive health, as is chewing – always chew your smoothies, so your body produces enzymes to help digest them.
"The Beauty Chef" pg. 265
---
HOMEWORK
Attend the seminar! Those who attended last weeks will tell you that it was fun and quite educational! Sunshine Grindz also has produce available for purchase – so come see Chef Jonathan demonstrate a couple of the drinks from "The Beauty Chef" cookbook. Once you see it done live, you realize it is easy and also kind of fun!
The seminar will be broadcast at the Facebook page as well, if you are unable to attend live.
I sure hope to see you there!
---
Island Kitchen Weekly Lunch Special!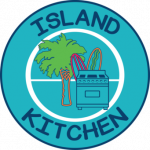 This week: Cashew Butter Chicken
pg. 173 "The Beauty Chef"
Stop by or call to order this delicious healthy meal option!
11 N 3rd St, Fernandina Beach
(904) 624-7447